Help Requested

After APC: When the Army Pictorial Center closed in 1970, many of its personnel and functions transferred to Redstone Arsenal, Alabama. Redstone Building 4489, (above) was the laboratory and studio building where the contractor worked in a Government Owned/Contractor Operated arrangement. The 4489 facility is gone now, replaced by Army Material Command headquarters.

Army demonstrated drones for reconnaisance
In the 1950s, the Army demonstrated an unmanned aircraft. In The Big Picture Pictorial Report No. 17, visitors to Ft. Huachuca, Arizona, saw a launch of the RC-71 Reconnaissance Drone, a 12-foot, 350-pound, remote-controlled aircraft that carried Signal Corps film cameras to deliver reconnaissance within an hour. See the link at The Big Picture Catalog, or view the video online at Archive.org.
Book editor seeks rights to D'Addario photos
Questions about photographer Raymond D'Addario raise more questions, as is often the case with this jigsaw puzzle that is the history of Army Pictorial Center. A book editor is seeking permission to use D'Addario's Nuremburg photos. We need your help.
While this website collects APC history, we have also accumulated names and information about other Army photographic units. We don't have any information about Raymond D'Addario or his work. If you can provide any information, please contact the APC Webmaster via e-mail.
The query we received said, "We are currently working on an illustrated book on the history of German pencil manufacturer Faber-Castell. One chapter of the book is dedicated to the post-WWII era in Nuremburg (the city where Faber-Castell is based). The Army Pictorial Service photographer Raymond D'Addario, whose iconic photographs of the Nuremburg war crime tribunals gained fame the wolrd around, is one of the main characters in this chapters."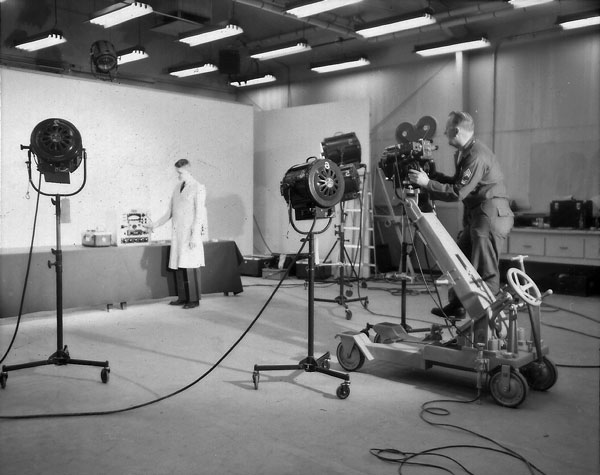 A daughter's memories of her dad at APC.
Photos provided by Adrienne Shane Esposito include this picture of her dad, Master Sergeant Theodore F. Shane, behind the camera at APC in the early 1960s.
Signal Corps Mobile Television Unit
In the early 1950s, Signal Corps Pictorial Center was home to a mobile television unit evaluating and demonstrating the potential use of this developing technology. Dick Robinson and Edward Boykin supply details and photographs.
Film industry in WWII:
Producer needs film, stills;
Personal collections sought
A French film company writes,
"We are currently in development of a documentary film about Hollywood Film industry during WWII.
"We are more precisely in search of photos and film footage concerning the involvement of Hollywood (directors, movie stars,...) in the war, directly (being enlisted, or in charge of filming battles, or directing training films) or undirectly (filmed during showes held for troops,...).
"We are very aware of Library of Congress and Nara's (National Archives and Records Administration) collection concerning this subject, but are looking also for more private or personal collections, which could help us find some more unreleased or badly known material.
"More specifically, we are looking forward to locate photos and/or footage of the following persons, during their involvement into Army Pictorial Center : John Ford, Sterling Hayden, George Stevens, Owen Crump, William Wyler, Darryl Zanuck, Franck Capra, Jack Warner,..."
If you know of collectors who may help, please forward a link to this site to them. If you have any materials or information -- or would like contact information for this French film company, please write to the Webmaster.
Headlines, stories and photos that previously appeared on this home page may have moved to Yesterday's Headlines, where you can still find helpful links.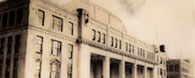 APC / SCPC
Yes, we still need your help to answer the questions about SCPC/APC and films made there.
What kind of black-and-white film would Army photographers have used during the 1950s? Russell Hay posed that interesting technical still-photo question.
Did Glenn Miller bring his famous Army Air Force band to the Astoria stages? We'd like to know!
Film producer Christine Fitzpatrick needs footage for Korea War Battle of Ch'ongch'on River and Battle of Chipyong-ni, and also the Vietnam War Battle of Ap Bac (1963).
What was that artillery film made in Ft. Hood about 1965? James (Jim) Strizich, of the Artillery, 2nd Armor Division, appeared as a lieutenant.
Is that Truman Bradley showing us how to select and pack an animal in 1943 training films?
A WWII re-enactor seeks information about Signal Corps Field Caption Cards.
"It is quite rare and information is scarce." Someone has acquired a WWII Oneida Photographic Lab Trailer and is seeking information, manuals, or photos.
It isn't an SCPC connection, but an Army photograph led Lisa R. Gerardi here in her search for records made by her grandfather, PFC Bernie Rattet.
Who was Jerry, the editor on "Public Shelter Living: The Story of Shelter 104"?
Was Dorothy McManus the original Emmy, the model for television's top award?
Did anyone ever respond to the a question about the film, "Invasion of Poland," asks researcher Jeff Grehan.
See if you can answer any of the questions on the Help page.
Artifacts sought
Alumni of Signal Corps Photographic Center / Army Pictorial Center have been asked to donate artifacts to the collection at the Museum of the Moving Image.
Collection Curator Barbara Miller wrote, "We would be very interested in collecting 'artifacts' from former SCPC/APC staff. These would include cameras (not necessary that they be in working condition) and other technical equipment, photographs, scrapbooks, manuals, or any other objects used in the production or promotion of media created by the military. We have a fairly significant group of objects related to the APC in our collection, and are committed to preserving APC history through collecting and exhibiting this material. Please note we do not collect moving image media (i.e. film and video), only objects related to their production, promotion, and exhibition."
If you have artifacts you can offer to the museum, send a note to this site's Webmaster.
Visit the museum website at
http://www.movingimage.us/