Tom Connelly wrote:
I served at APC from September 1957 thru January 1960. I came from the Photo School at Ft. Monmouth as a private (E-2) and left a Specialist SP5 (E-5).
There were five of us from my class at Ft Monmouth who were sent to APC. SP5 Ralph Artis, and four privates, PVT Fred Harris from Indiana, PVT Andrew Licari from Queens, New York City, PVT Lloyd Pepolino from up-state New York and me from Detroit, Michigan. (Editor's note: Fred Harris offered more detail about his service. Click here to read more.)
After a year or so I was the only one making movies, usually as an assistant camera man on a production crew. Artis was transferred to Alaska; Harris was working for a Lt. Col.; Licari was a switchboard operator for APC; and, Pepolino worked in camera branch supply.
I was on Temporary Duty (TDY) for about 20 months during 1958 and 1959. My TDY locations were:
Ft Meyer, VA October, 1957, 2 weeks.
Redstone Arsenal, AL Jan -Mar 1958
Ft Sam Houston, TX Apr 1958
Ft. Story, VA May - June 1958
Ft Belvoir, VA July - Aug 1958
Ft Eustis, VA Jan - Feb 1959
Ft. Knox, KY Mar - May 1959
Ft. Campbell, KY June 1959
Ft. Knox, KY July - Sept 1959
Ft Bliss, TX Oct - Dec 1959
There were also day trips to Ft. Dix, New Jersey, the de-commissioning of the USS Wisconsin (October 1957) at the Bayonne Naval Yard and at least one Military Arsenal in Pennsylvania. I usually went to New York after each assignment but sometime I went from one posting directly to another like Ft. Story to Ft. Belvoir, Virginia, and Ft. Campbell to Ft Knox, Kentucky.
I am attaching some pictures from my Army Days: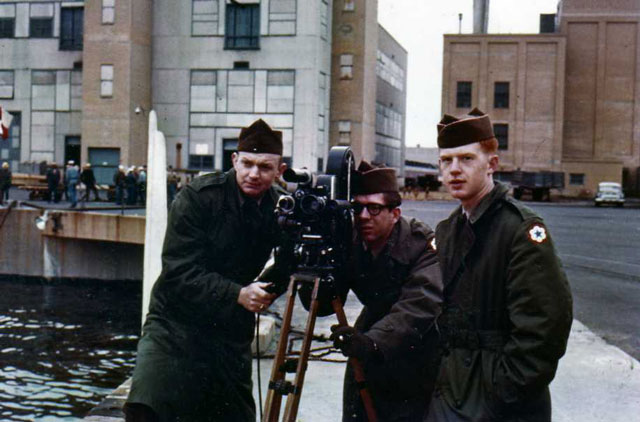 The first is of the de-commissioning of the Battleship USS Wisconsin, October 1957: left to right are: Mac ?????, California; Richard Long, Ohio; and, Tom Connelly, Detroit, Michigan.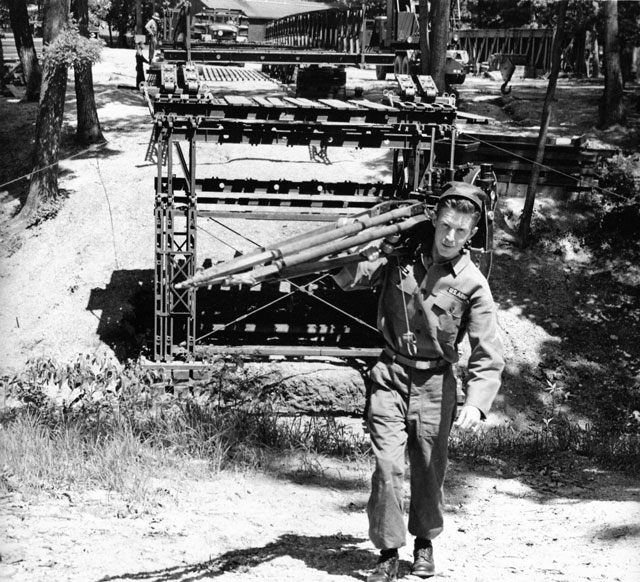 The second is of me carrying a Mitchell 35MM Standard camera at Ft Belvoir, Virginia, summer 1958.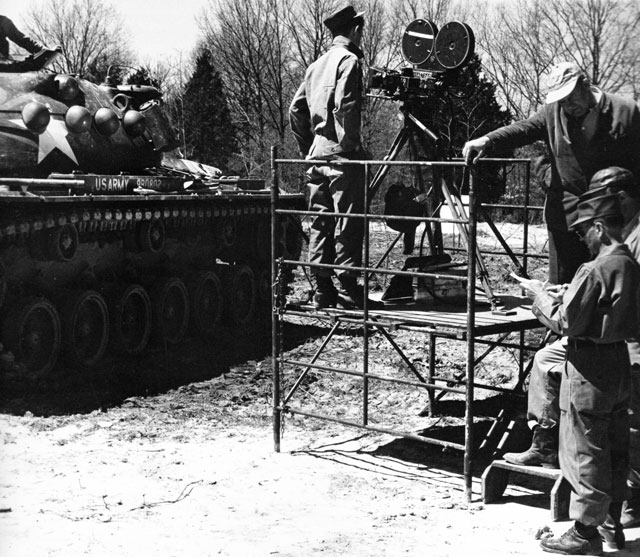 The third is at Ft. Knox, Kentucky, in the summer of 1959. I am the GI on the platform. The guy in the ball cap is the camera man Charlie Arnold.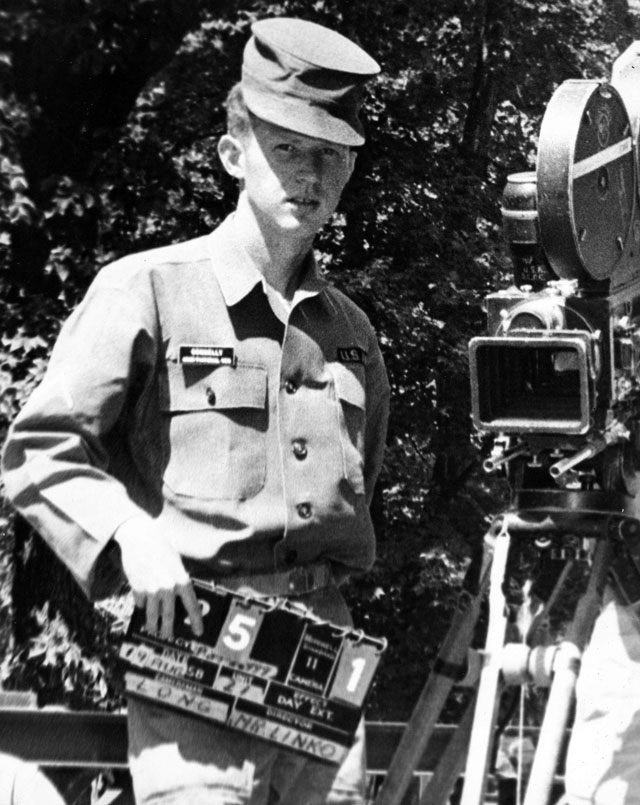 The fourth is a close up of me at Ft Belvoir, Virginia, in 1958
I would love to hear from anyone who I was with while at APC in 1957 , 1958, 1959. My e-mail is FAMIKIDTOM@AOL.COM
(Updated July 10, 2016, and September 8, 2020.)