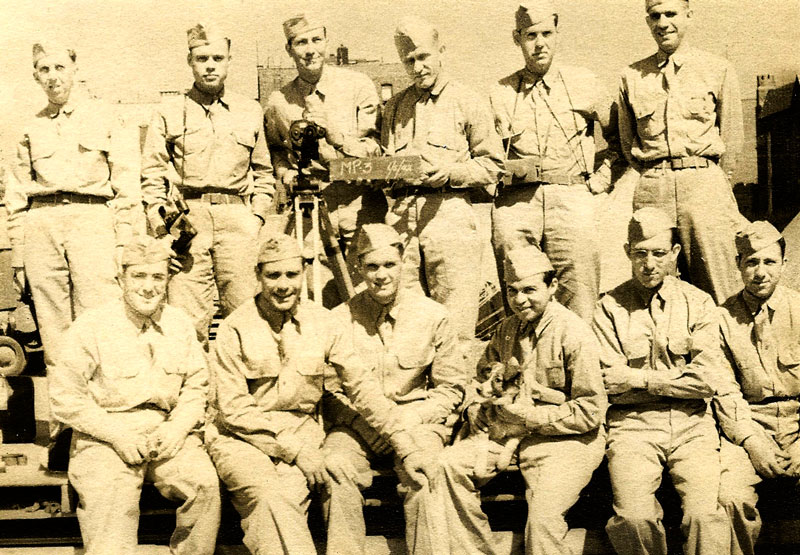 Class 3 at Signal Corps Photographic Center, photographed in the back lot in 1942: Jackson B. Pokress is seated at far right, and Jeffrey Lynn is standing, third from left.
When the Army established the Signal Corps Photographic Center at the former Paramount studio in Astoria in 1942, men with experience in film and photography answered the call. But, according to Jackson B. Pokress, who was among the first at the new Army post, "Those from Hollywood got all the rank, New York guys got nothing."
Part of the reason was that not too many people except those from Hollywood had worked in the film industry. There were many newspaper photographers. "If you were from Hollywood, whatever you told the Army, they believed it. There were guys running around with all kinds of rank, but they didn't know anything."
In the Army, "if you had 15 years on a daily newspaper, you could get a direct commission."
Eventually the direct commissions and the rank started running out. "Stanley Cortez was a big-time cameraman, but the rank was all gone. He was a private."
"One of the guys who went to high school with me, Jerry Hirschfield, was at Astoria. He was an ASC (American Society of Cinematographers) cameraman. He was the guy who told me about Stanley Cortez."
SCPC "was big movie studio," and the GIs slept in bunks around the sound stages. "We used to have a formation in the street outside the building. I lived in the city, so I used to go home," Pokress explained. "I'd take the subway."
Everybody was interested in cameras and equipment. Soldiers had classes in "how to handle Eyemo cameras, then Mitchells. I have a picture with Akely," (the distinctive, circular "pancake" camera, but it was seldom used.) Instructors were "teaching us basically the mechanics of the camera, how to hold it, long shot, medium shot, closeup. I had been a still photographer."
Pokress was attending New York University and was set to graduate in June 1942. He got a three-day pass, which would have turned a weekend into a five-day break, but passes were cancelled at the last minute.
The Navy also had a film production operation, but, "The Navy had a better setup, better equipment, better rank."
The Army military occupational specialty (MOS) for motion picture cameraman was 043. "Movie guys didn't give still guys the time of day."
The Army had some big names from the film industry, but they didn't always work at Astoria. Pokress remembered that Darryl Zanuck, who wasn't assigned to SCPC, was a full bird colonel when he made some film in Africa "that was so bad, we used it to for training what not to do."
Frank Capra never came to Astoria but was in charge of film production.
Pokress remembers many of those served at SCPC in the early days.
Lt. Bob Olds had worked for Films for Industry.
Bill Saffron, who also served in the 164th Signal Photo Company, ended up as manager Peerless Camera Stores.
Danny Novak, who came to Astoria later, was in one of the classes. He went on to the 164th Signal Photo Company.
Arthur Gaskill had been with News of the Day, and "everybody paid attention to him. He was one of big instructors. He came in as a captain and ended up a colonel. He was also with Merrill's Mauraders."
Russ Arms, who was a singer on The Hit Parade, was doing film editing when Pokress was at SCPC.
Amerigo Musetra, who came from Italy, was a good cameraman.
Eddie Mesurgeon was there too. He had a big camera store in Poughkeepsie.
William Franklin (Bill) Beedle, Jr., served at SCPC. He and Jeffrey Lynn went to Army Air Force Officer Candidate School together. Beedle went on to gain fame as William Holden.
"The next time I saw Lynn was at Camp Patrick Henry when he was a second lieutenant. "I just came in to wish you good luck," he said. The next time I saw him on 7th Avenue after the war."
Dick Leacock was at Astoria and then went on to Burma. He had a good reputation as a cameraman.
Mel Brooks came to SCPC as a writer just as Pokress was leaving.
Other names Pokress remembers included Herbie Anderson and a Cudahy, of Cudahy Packing.
Many of Pokress' memories are intertwined with his time in the 164th Signal Photo Company. In April or May of 1942, he was transferred went to the 164th.
"The big tripod we were using was the Pro Junior," but in the jungle the mopic cameraman often worked with hand-held Eyemo cameras. "We didn't have meters. We shot seat of the pants, and the stuff came out good."
"The 164th was divided into six-man units, including an officer, a still photographer, a mopic guy, and a clerk. At one point the officers decided to get rid of the company commander, but it didn't work, and the commander got rid of those officers."
One captain, who was new to the Army on a direct commission from the film industry, was asked how long a job would take if it was a civilian assignment. He said "three weeks," so he was told "you've got three weeks to finish it."
Edward J. (Eddy) Montaigne, who had been an assistant director at Universal before war, got a direct commission and was Pokress' lieutenant in the 164th. Later Montaigne made the famous picture of Mussolini hung by his feet. After the war Montaigne produced and directed the Phil Silvers Show.
Lester Schorr was a captain, and he told everyone he was General Stillwell's personal photographer. "I don't think he ever met Stillwell."
Marty Leederhand, who spend 55 years with the Associated Press, was a second lieutenant on D-Day. He sent his exposed film by carrier pigeon, but the pigeon went the wrong way, to Berlin. The Germans published his photos in newspapers, crediting Leederhand … who was Jewish.
When Pokress tried to take pictures home when he left Burma, they were seized, and he was told he would get them back later, but he never did. However, Syd Greenberg, "who was a big noise in our company, acting first sergeant," left around the same time. Soon Pokress saw Popular Photography magazine headlining a photo exhibit by Mrs. Greenberg's son.
Dave Quaid was another good friend whom Pokress recalled. Quaid wasn't at Astoria but in served with Merrill's Marauders. "He was very independent, but took off on his own. A hell of a cameraman. He ended up an ASC cameraman after war.
Dick Sarno, who was a press photographer with The Daily Mirror, was one of five brothers from Yonkers. He made the famous picture of allied leaders meeting at Yalta, and Sarno "lived off of it the rest of his life."
Ed Hattrick was also at Yalta. His father was in charge of all motion pictures for Hearst. "I don't think he was at Astoria. He was a newsreel guy after the war."
Arthur Rothstein, who had a big job with Look Magazine, was with the 164th.
After the war Pokress went back to SCPC, where he was allowed to buy 2000 feet of the film he had shot, for 10 cents a foot.
Pokress son, Dave, followed in his photography footsteps, working 37 years for Newsday and serving as president of the New York Press Photographers Association.
Pokress recommended a book World War II on film, "A Catalog of Select Motion Pictures in the National Archives," 1994, compiled by Frank H. Serence.
(Page updated September 16, 2020.)