Harold Moore wrote:
I served at APO in 1958 and 1959 as a still photographer in the Camera Branch. My wife Jean, who passed away from cancer in 1985, served as the secretary in the Camera Branch at the same time.
I worked with Pete Turner and Ron Kuntz at the time and as I recall Sgt. Oscar Trost and Sgt. Marks were also in the branch.
I would love to hear from anyone who was there at the time. I still keep in contact with Ron Kuntz and Francis Webb, who served in the supply room.
After being discharged from the Army, I returned to Durham, NC, where I worked as a photojournalist for the local newspaper for 50 years before my retirement in January of this year.
SPC/5 Harold Moore
Editor's Note: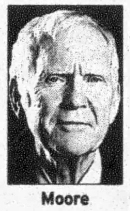 Harold Moore won the Pic of the Week photo contest, described in the August 17, 1958, issue of the New York Daily News:
Army Fotog Cops
Pvt. Harold Moore, a photographer stationed with the Army Pictorial Center at 35-11 35th Ave., Long Island City, used his own Speed Graphic with a 4.5 lens to shoot his winner. It shows two grinning kids armed with a ball and bat and is titles "It Happens Every Spring".
Moore, who plans to return to his home in Durham, N.C., at the end of his hitch, photographed the youngsters last summer in a Durham playground.
This is the first New York winner for Moore who has won a number of photo contests back home. He was a newspaper photographer in civilian life.
Moore passed away in 2010.
(Posted May 20, 2005; updated March 1, 2021.)