James R. Hatzer directed films at Army Pictorial Center early in a long, distinguished career in communications. His life is remembered in this 2015 obituary, below.
Hartzel was identified by Bill Geerhart, who wrote, "A number of years ago I wrote an article about a civil defense film called PUBLIC SHELTER 104 (1964). I interviewed the director (James R. Hartzer).
http://conelrad.blogspot.com/2011/07/public-shelter-104-appreciation-with.html
(Editor's Note: With its full-service motion picture studio capabilities, Army Pictorial Center was equipped to produce films for any government agency. This is an example, where the agency is the Department of Defense, and the film's sponsor -- the customer -- is the Office of Civil Defense. This concept broadened the customer base and provided additional financial support for the extensive (and expensive) physical plant and personnel at APC. It also enable many government agencies to benefit from the professional services of the Army studio.)
James R. Hartzer
https://www.wallingfordfh.com/obituary/6083981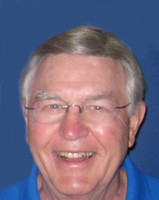 JAMES R.'S OBITUARY
James R. Hartzer, a long time resident of Darien and Norwalk, and most recently Wallingford, CT, died Thursday, October 22, 2015, after courageously enduring multiple health challenges, including Parkinson's. He was 77 years old. A devoted and loving family man, Jim is survived by his beloved wife Linda of 29 years, his daughter Carolyn of San Francisco, CA, and two sons and their families: Brian and Georgy Hartzer of Sydney, Australia and grandchildren Olivia, Amelia, Georgia and Benjamin of Melbourne, Australia; and William and Debbie Hartzer of Mabank, Texas and grandchildren Alexander James and Ryan.
Jim was born on November 28, 1937 in Chicago, Illinois and was the son of the late Elsie and Emil Hartzer of Leesburg, FL. He attended Taft High School in Chicago where he was once honored as "Mayor of Chicago for a Day"and received a B.A. degree from DePauw University in Greencastle, Indiana. He also earned an M.A. degree from Michigan State University in East Lansing, Michigan.
Mr. Hartzer's business career was inspired by his vision and passion for communications and the early days of the videotape. After working summers at WGN in Chicago, he enlisted in the U.S. Army and was stationed at the US Army Pictorial Center in New York City, where he directed military training films. He went on to work as a producer and director for Teletape Productions in NYC, traveling extensively around the world producing corporate and political programs, and later served as President of Reeves Teletape in NYC and Home Shopping Network's Telemation Production Studios. Jim also was Chief Operating Officer of Imero Fiorentino Associates of NYC; Vice President of Caribiner International and Jack Morton Productions in NYC; and Founder and President of the Corporate Communications Group, Inc. in Norwalk, CT.
After his retirement, Jim directed his skills and passion towards producing student athletic and activity videos as well as educational training for teachers and the CT State Department of Education. Jim was a natural athlete and avid sports fan, who took pleasure in participating on tennis and bowling leagues and cheering on his favorite Chicago Cubs or Bears teams. But what really distinguished him was that he took even more pleasure in mentoring, encouraging and supporting others to meet their own goals. He was a long time dedicated member of the Middlesex Swim and Tennis Club where he served in roles as Club President, Tennis Chairman and Captain of the Middlesex Senior Men's Team. He also served as Secretary of the Fairfield Country Master's Tennis League; served on the Board of Directors of the Darien YMCA; on the Board of advisors for DePauw University's Eugene S. Pulliam Center for Contemporary Media and was active in the Darien Senior Men's Association.
A memorial service for relatives and friends will be held at the United Church of Rowayton, 210 Rowayton Road, Rowayton, Ct., on Thursday, November the 5th, 2015, at 2 p.m. In lieu of flowers, donations in Jim Hartzer's memory may be made to the Norwalk Grassroots Tennis Association, 15 Eastwood Road, Norwalk, CT 06851 or The Michael J. Fox Foundation, P.O. Box 5014, Hagerstown, MD 21741-5014. Please visit www.wallingfordfh.com for tributes, directions and more service information. Arrangements are under the direction of The Wallingford Funeral Home, 809 North Main St. Ext., Wallingford, Ct. 06492