Charles E. Wright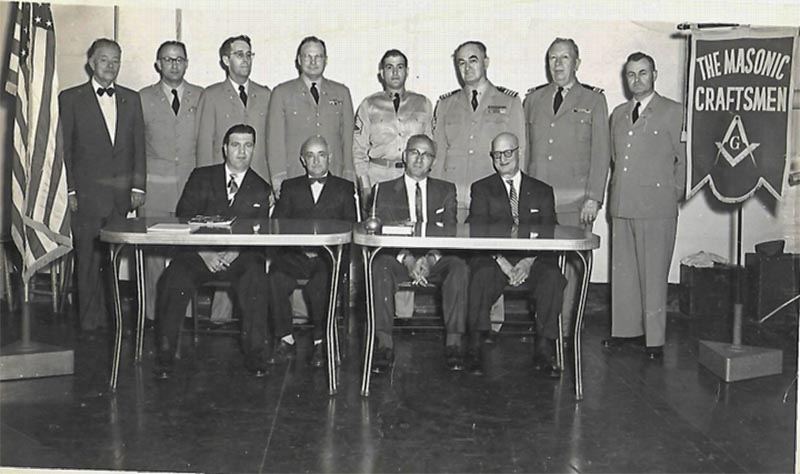 Charles E. Wright was a civilian photo printer at APC and was Secretary of the Masons, The Square Club, meeting at APC, shown above seated at left.
In this photo are:
Top row, left to right: Mr. Cohen, W.O. Richards, Lt. Col. Malone, Col. Mast, Sgt. San Castiglia, Capt. Maurice Witherspoon (Reverend) Rep. Grand Lodge State of New York, Capt. Braun (Rev. Master County Service Lodge), Lt. Col. Brown, Prod. Chief.
Seated, left to right, Secretary Charles Wright, Treasurer Robt. Allaire, Vice President Herman Korman, President Bart Stafford.

Charles E. Wright's sons recalled his service at Army Pictorial Center.

Son Richard asked if there is "any information / photos concerning my father, Charles E.Wright. He was a Film Printer at the Army Pictorial Center in the 1950's and 60's.

"He was also a photographer, was a member of the I.A.T.S.E. He was a civilian who worked in the motion picture / film industry all of his life. He passed away when I was 12 years old. That was in 1965.

"I have memories as a boy visiting The Big House (the Army Pictorial Center.)"

Son Charles A. added, "My brother is correct as I was 16 when (our father) died and my brother Rick was 12, and my youngest brother dave was 9.

"My father worked at Army Pictorial Center from 1949 until his retirement, he was a Photo technician that processed exposed film and edited for Senior Army Staff . Because of his security clearance there are no photos of him at APC, except at Square Club Meetings.

"The family attended the summer barbeques on a lake near West Point when available. The bumper sticker of the Unit kept the vehicle from parking tickets. A two Star general was in charge of the Signal Corps unit in Long Island City."